Product Description
Horizontal Ribbon Mixer for Continuous Powder Mixing,Horizontal Ribbon Mixer for Batch Mixing,Horizontal Double Ribbon Blender Machine for Soybean Milk Powder,Powder Mixer Non-Gravity Mixer V-Shape Mixer for Dry Powder Mixing Process,Spice Milk Coffee Ribbon Blender Powder Mixer Machine,Industrial Blender Food Mixer Chilli Powder Mixer Machine,Industrial Horizontal Double Ribbon Blender Mixer Machine for Dry Powder Mixing,Horizontal Double Ribbon Mixer Machine for Wall Putty Powder,Horizontal Ribbon Mixer for Continuous Powder Mixing,Horizontal Ribbon Mixer for Batch Mixing,Ribbon Mixer
Description:
The Double Ribbon Blender agitator is valued for its thorough mixing. It consists of an inner and an outer ribbon providing counter-directional flow while keeping the product in constant motion throughout the vessel. Inside ribbons move materials toward the ends of the ribbon blender whereas the outside ribbons move material back toward the center discharge of the ribbon blender.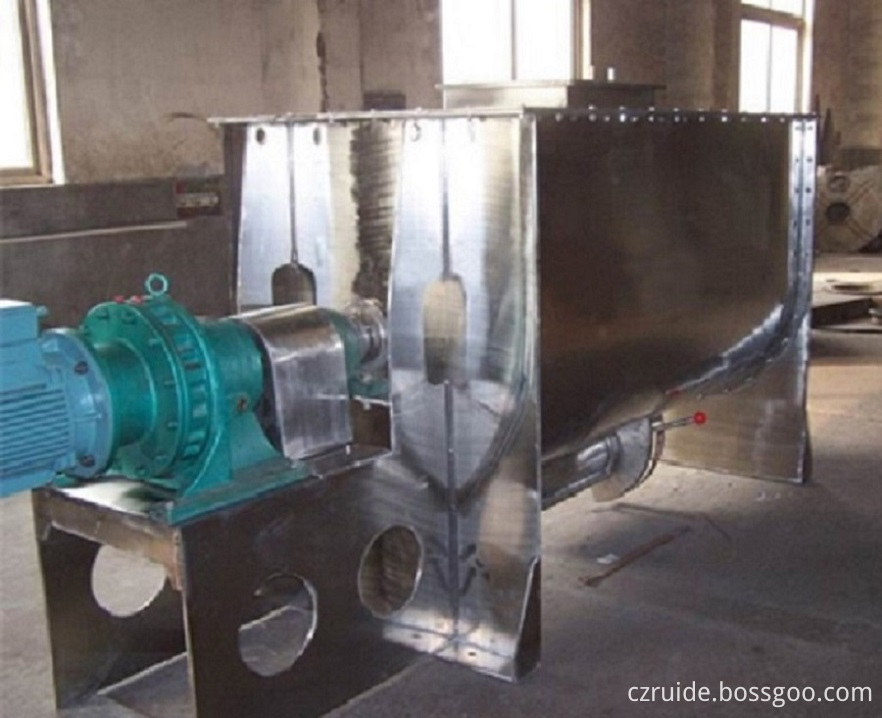 Horizontal ribbon mixer is widely used in chemical, pharmaceuticals, food, and construction line. It can be used to mix powder with powder, powder with liquid, and powder with granule.
Under the driven of motor, the double ribbon agitator mix the material quickly. This ribbon mixer is characterized by high mixing effect, large productivity, and a very low failure rate. Since it is a batch type mixer, customer should choose the model according to the output per batch.
Industrial Batch Ribbon Blenders Working Principle:
Horizontal ribbon mixer is mainly combined with mixing barrel, agitator, driven unit.Untwist double ribbon are swirled with the main shaft in the U shape barrel. The outer ribbon push the material from the two ends to the centre, inner ribbon push the material from center to the two ends.Thus to achieve material convention
The discharging port is set in the bottom centre, with the help of the outer ribbon,the material can be discharged completely, and no dead zone.

Material can be chosen from carbo steel, manganese steel, ss304, 316L and 321; besides, different material can also be used in combination.
Material is different between the part contact with the raw material and the parts don`t contact with the raw material.
Surface treatment for stainless steel include sandblasting, wiredrawing, polishing, mirror polishing, all can be used in different parts of a mixer.
Industrial Batch Ribbon Blenders Reliable driven unit
The driven unit, power and output speed are varied according to different raw material, starting method, and processing.
Options for motor: general motors, explosion-proof motors, variable frequency motor, high efficiency and energy saving motor.
Commonly used reducers: R-series, K-series, and F-series gear box; cycloidal reducer, universal gear reducer, planetary gear reducer. Commonly used connection: direct connection, pulley connection, hydraulic coupler connection.
High efficiency mixing unit
Different main shaft agitators can be equipped according to the properties of raw materials.
Materials commonly mixed are: different kinds of powder to be mixed with each other, batches mixing for the same material, powder with a small quantity of liquid, liquid with some powder, like slurry, thickening or diluting slurry, granule with powder, granule with granule, agglomerated material breaking and mixing, and cooling or heating.
The main shaft agitator could be: inner and outer ribbon, paddle and ribbon, disconnected ribbon, and shaver-shaped agitator.
Excellent discharging unit
Standard valve for horizontal plough shear mixer is pneumatic planar flap valve. When close the valve, the planar flap match the mixing barrel perfectly, this makes no mixing dead zone and better mixing effect.
The drive types of valve are Manual, pneumatic, and electric.
Valves for consideration: powder spherical valve, cylinder valve, plum-blossom dislocation valve, butterfly valve, rotary valve etc.
Various inlets
Various inlets on the top cover of the barrel can be designed according to different situations.
They can be used as man hole, cleaning door, feeding hole, vent, and dust collecting hole. The top cover can be designed as fully-opened lid for easy cleaning.
Powerful auxiliary components
Mixer is frequently equipped with many auxiliary components, like steam coil jacket, honeycomb pressure jacket, medium circulation jacket, sampling valve, high speed chopper, temperature sensor, weighing system, dust removal system and so on.
Different heat medium requires different jacket, it can be used for heating and cooling, while, the temperature should be within 250 Celsius degree.
If a small quantity of liquid is required during mixing, spraying or atomizing unit is necessary in order to mix the liquid evenly with the main ingredient. The liquid-adding system is basically composed by the three parts: pressure source, liquid storage pot and spraying nozzles.
Tight shaft sealing
Three types of main shaft sealing for mixer: packing sealing, combined type air-purged sealing, mechanical sealing are used for granule, powder, micron grade powder, liquid, and slurry material.
Technical Parameter
Spec
WDH-0.1
WDH-0.3
WDH-0.5
WDH-1
WDH-1.5
WDH-2
WDH-3
WDH-4
WDH-6
WDH-8
WDH-10
mixed amount/batch
(kg)
30-50
100-150
200-300
400-600
600-900
800-1200
1200-1800
1600-2400
2400-3600
3200-4800
4000-6000
power(kg)
1.5-4
3-3.5
4-11
7.5-15
11-18.5
15-22
18.5-30
22-37
37-55
37-55
37-55
weight(kg)
300
500
900
1400
1900
2500
3100
3600
5300
6800
7800
Triple Mixing Action - The Key to Fast, Efficient Blending
As the agitator rotates, the material is tumbled and carried radially around the inside of the blender.

The pitch of the outer ribbon moves the material toward the discharge opening.

The inner ribbon which has an opposing pitch moves the material away from the discharge opening