Product Description
New 220a alternator fits mercedes s350 s550 2012 0121813103 al0864n 0986047790
zowo online with confidence
all zowo autoparts are backed by our guarantee. if you`re not satisfied with your experience, sears will step in and help. if we can`t, we`ll refund the cost of your order – including shipping.
description
replaces:bosch: 0-121-813-002 0121813002 0-121-813-102 0121813103 al0864n al0864x 0-986-047-790 0986047790 0-986-0479797 0986047797
mercedes: 013-154-06-02 0131540602 013-154-99-02 0131549902
item description: alternator
unit type: bosch
voltage: 12
amperage: 220
fan: internal
regulator: internal
stud size: m8-1.25
pulley: 6 grooves
product notice:
as a parts distributor we mostly sell aftermarket parts (any oem parts would be noted as such). aftermarket parts are not sourced from the original vehicle or equipment manufacturer, but are designed to function the same as - if not better than - the original. all parts sold are new.
applications:
please verify your oem part number from your original unit to help ensure fitment.
2007-2012 mercedes-benz cl600 5.5l 5513cc 336cu. in. v12 gas sohc turbocharged
2008-2010 mercedes-benz cl63 amg 6.3l 6208cc v8 gas dohc naturally aspirated
2008-2012 mercedes-benz cl65 amg 6.0l 5980cc 365cu. in. v12 gas sohc turbocharged
2012 mercedes-benz s350 3.0l 2987cc v6 diesel dohc turbocharged
2012 mercedes-benz s550 4.6l 4663cc v8 gas dohc turbocharged
2007-2012 mercedes-benz s600 5.5l 5513cc 336cu. in. v12 gas sohc turbocharged
2008-2010 mercedes-benz s63 amg 6.3l 6208cc v8 gas dohc naturally aspirated
2007-2012 mercedes-benz s65 amg 6.0l 5980cc 365cu. in. v12 gas sohc turbocharged"
SPECIFICATION:
ZOWO NO.



ZWBO014-AL


TYPE




BOSCH ALTERNATOR ASSEMBLY




WAI NO.






OEM NO.



BOSCH 0121813002
BOSCH 0121813102
BOSCH 0986047790
BOSCH 4779
LUCAS LRA03911
LUCAS LRA3911
MERCEDES-BENZ 0131540602
MERCEDES-BENZ 013154060280
MERCEDES-BENZ A0131540602
MERCEDES-BENZ A013154060280


DESCRIPTION



220Amp/12 Volt, CW, IR/IF,7-Groove Pulley


APPLICATION



MERCEDES-BENZ


WARRANTY




12 MONTHS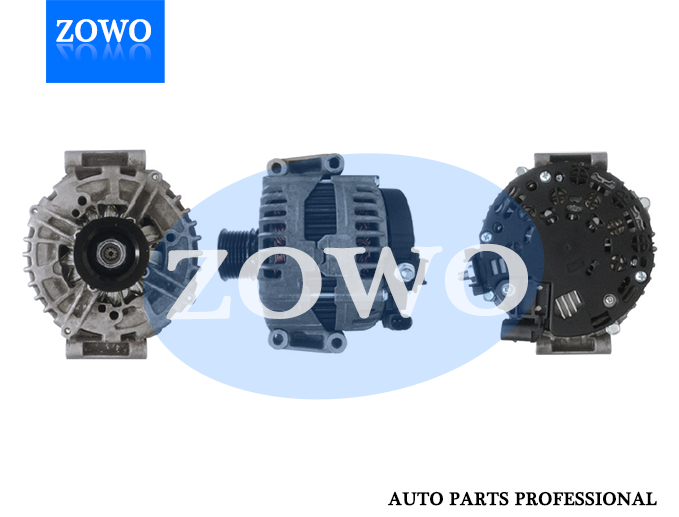 Alternators are an essential part of the modern car`s electrical system. Visit our zowoparts website. We deal with all series, including: Bosch Alternator,Denso Alternator,Delco Alternator,Valeo Alternator,Hyundai Alternator,Lucas Alternator,Nissan Alternator,Isuzu Alternator,Ford Alternator,Hitach Alternator,Iskra Alternator,Lada Alternator,Mitsubish Alternator,Sawafuji Alternator,Marelli Alternator,Caterpillar Alternator,Forklift Alternator,Hino Alternator,Komatsu Alternator,Prestolite Alternator etc.


We are specialized in Auto alternator and Starter motor since 2000. Quality first, price second. Usually, our Car Alternator and Starter motor can match with each other smoothly in the same model Vehicle.
Our company boasts a high-quality management team from top to bottom for the purpose of an efficient operation system. We control every part and every working procedure strictly because we regard product quality as a basis of our corporate development. Based on the original ISO9001: 2000 International Quality Management System, all links of our production and management are strictly guided by the standard of ISO/TS16949

Wish can cooperate with you in the near futre.



TIPS:
What is a Car alternator?
Car alternators are the devices responsible for charging the battery and powering the electrical system while the engine runs; it`s often referred to as the hardest working part in the car. Car alternators have a voltage regulator that operates by modulating the small field current that produces a constant voltage to the stator output.

How to check an alternator?
How to Check an Alternator - Method 2 Monitoring Your Alternator
Check the alternator gauge.
Listen to the alternator while the engine is running.
Turn the radio on and rev the engine.
Find an Auto parts store that tests alternators for free.

How long does an alternator last?
A new car alternator should last a minimum of two years. Well maintained it can last up to 8 or 9 years. As stated, the miles you put in is another factor. The alternator provides power for the electrical components.